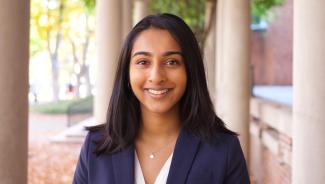 Alisa Ghura is a 2022-2023 Turner Schulman Fellow and her research is partially supported by CSERI.
Katelyn Silva, Omnia
When Alisa Ghura, C'23, enrolled at Penn, she planned to study international relations. As the daughter of immigrants from Mauritius, she often thought about the power dynamics and inequities between countries, particularly as an individual who felt that her "identity was attached to a large superpower, on the one hand, and a small, developing island on the other," she says.
However, as she spent more time in Philadelphia, she found pressing equity issues all around her. "I realized that a lot of the dynamics around power, race, and inequities that I'd been interested in from an international relations perspective were playing out at the local level," she says, "particularly in under-resourced urban schools."
As a Civic Scholar, Ghura began working with a refugee resettlement group and then within local schools, including as a writing program instructor at Paul Robeson High School through Robeson Writes, a supplemental writing program that she co-founded. 
"I began to take a special interest in the education system, particularly the physical environments in which public-school students are meant to learn," says Ghura, who switched from international relations to a double major in urban studies and political science with a focus on city-level governance and the education system.
The majority of America's public-school buildings were constructed prior to 1970 and many haven't had improvements since. "Many public-school facilities in Philadelphia have fallen into disrepair. Through my interviews, parents and students discussed school buildings with suboptimal bathrooms, lead in the water, dangerous structural issues, exposed asbestos, and outdated HVAC systems, for example," says Ghura, who is also minoring in survey research and data analytics.
Ghura—Penn's 2021-2022 Newman Civic Fellow, a Program on Opinion Research and Election Studies Student Fellow, a member of the Penn Mock Trial team, and chair of the Netter Center for Community Partnerships Student Advisory Board—became deeply interested in education and environmental justice, conducting research on the presence of environmental hazards in schools through her honors thesis and an internship at the Brookings Institution.
Her research question asked: Within local public processes, what are the barriers or challenges to improving school facilities in budget-strapped, low-income, minority school districts? Her research methods included interviews, quantitative analysis of HVAC data and consultant reports, participant-observation ethnography, and an analysis of correspondences with the School District of Philadelphia (SDP), its reports, and website.
Ghura found that the local public processes for improvement were hindered by two barriers: an over-reliance on consultant data and analysis, and missed opportunities for building trust and gaining input from the community. 
She explains, "While the SDP is very resource-constrained, there are improvements that can be made at the local level. The current process of dealing with facilities issues can be haphazard, often stopping and restarting facilities planning processes, which breaks down community trust. When pressed by the community, the SDP will often turn to consultants for advice, but it's unclear how helpful, accurate, or comprehensive consultant-driven data actually is, and it often fails to capture what community members really want."
In terms of the data accuracy of consultants' work, Ghura undertook a quantitative analysis of consultants' reports and ventilation data. "The consultants' reliance on visual inspections rather than testing major building systems raised concerns for me about how comprehensive the data really was," she says. She found minimal correlation between ventilation—the amount of forced air that moves through each classroom—and the consultant HVAC system scores.
"We have a school buildings crisis," says Ghura. "I hope to investigate and advocate for solutions to that crisis and I'm hopeful that green grants can be part of that. For example, the federal Inflation Reduction Act has provisions for climate change and energy efficiency. Funds from this Act could be very useful in helping the SDP get at least some money for energy upgrades, particularly HVAC modernization, in its schools."
Ghura plans to continue her research on environmental and educational justice at the University of Oxford in the fall, as a Thouron Scholar. She is one of eight scholarship awardees from Penn who will study at U.K. universities next year. Thouron Scholars receive tuition for as long as two years, as well as travel and living stipends.