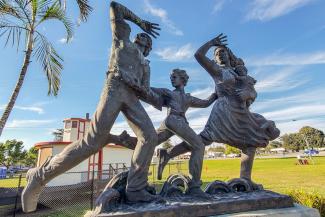 Kristen de Groot, Penn Today

History Ph.D. candidate Brett Robert's research on a devastating Caribbean hurricane of 1928 came about after a modern disaster, in a very different part of the world: the 2017 Tubbs wildfire in Santa Rosa, California, which, at the time, was the most destructive fire in that state's history.
Robert lived in Santa Rosa for over a decade and started his educational journey there, attending night classes at Santa Rosa Junior College while working full time, eventually transferring to Sonoma State to finish his undergraduate degree before earning a master's at California State University, Northridge. He came to Penn to study Latin American history in the fall of the wildfire.
"Pretty much every day I was coming home from class and just hitting f5 over and over on Facebook, trying to check in on my friends to see if they were OK, to see if people needed anything, if I could send supplies," he says. "That got me really thinking about disaster."
For his first-year seminar he was encouraged to research a topic that would be different from his dissertation. "Because disaster was so huge in my personal life and it was the same time that Hurricane Maria hit Puerto Rico, I started looking at disaster in Latin America, focusing on this 1928 hurricane," he says. "The more I looked into it, the more interesting I found it, and I talked to my advisor, Ann Farnsworth-Alvear, who was really supportive, and I switched topics."
As he researched the storm, which had different names as it passed through different countries—Cyclone '28 in Guadeloupe, the San Felipe Segundo hurricane in Puerto Rico, and the Okeechobee Hurricane in Florida—it slowly occurred to him that he'd encountered the storm's history at various times in his life. "I realized that it was the same hurricane that Zora Neale Hurston wrote about in 'Their Eyes Were Watching God,' which I read in senior year of high school way back in 1998. And then I realized that it was also the same hurricane that Gisèle Pineau, an author from Guadeloupe, depicts in her 1989 novel called 'Macadam Dreams,'" he says. 
He'd originally looked at how the hurricane affected Puerto Rico, but it became apparent it had huge impacts across the Caribbean, in Guadalupe, in Puerto Rico, and into Florida. His dissertation focuses on the powerful hurricane that killed thousands, perhaps tens of thousands, and left hundreds of thousands homeless in September of 1928 as it spread destruction. Alongside cultural sources like art and novels, his research analyzes scientific papers, government and relief organization records, and oral histories in French, English, and Spanish to grapple with the legacies of this tempest. 
Conversations with Roquinaldo Ferreira, the Henry Charles Lea Professor of History, who is on his committee, helped Robert think of the hurricane in a trans-local way, looking at how to do studies of history that aren't bounded or limited by national borders. "A hurricane is perfect for that, and the boundary of my project became the places where this hurricane had the most severe impact," Robert says.
Studying an event like the 1928 hurricane is important at this particular point because it shows how essential it is to dig deep and ask questions about how racial relationships shape the way people live and die within their environments, he says. "Even something like a hurricane - which affects all residents of an area and itself has no bias or ability to discriminate - produced different effects for different groups," Robert says. "This was not because of how the hurricane behaved but because of systemic problems that propagated racial disparities in the affected regions. In Florida, segregation followed these victims into death, just as it had affected them while they lived." 
When the storm made landfall in Palm Beach County on Sept. 16, 1928, thousands were killed, the majority drowning in the flood waters of Lake Okeechobee, and the victims were disproportionately African Americans and Bahamians who lived near the lake. The ground was flooded for weeks and made burial of victims impossible, Robert says. White victims' remains were identified and prepared for burial in nearby communities, but due to segregation laws Black victims' remains—and those whose race was impossible to decipher due to decomposition—were initially burned and then later interred in a mass grave in West Palm Beach, Robert says. Beginning in the 1970s, dedicated work by activists like Robert Hazard and his wife, Dorothy Hazard, led to the creation of the Storm of '28 Memorial Park in 1999.
Doing this research now, as hurricanes powered by warmer oceans continue visiting destruction on these societies, is more important than ever, he says, especially in Florida where research that acknowledges the facts of segregation and racial discrimination has become a political scapegoat.
"Brett's doctoral work on the most devastating hurricane of the early 20th century is both relevant to our collective present and strikingly nuanced," says his advisor, Farnsworth-Alvear. "He has thought carefully about how to explore the past in ways that can speak to crises still in the future."
Farnsworth-Alvear, an associate professor of history, says Robert's research on disaster management and social responses to past Caribbean storms has the potential to inform climate refugee policy in upcoming decades because of his focus on relationships marked by economic and political hierarchies. "I see his work as having the potential to contribute to conversations about policy that historians rarely involve themselves in, and it is a testament to Brett's flexibility as a thinker that his work crosses such disciplinary boundaries, moving from meteorology to art history to public health conversations, all of which extend back decades," she says.
He says his third committee member, Adelheid Voskuhl, graduate chair in the Department of History and Sociology of Science, has been invaluable in helping him understand and think critically about the role of science and scientists, including meteorologists, in his research. "I think Penn giving me the freedom to reach beyond my department and get perspectives from fantastic scholars like Professor Voskuhl and Professor Gwendolyn Dubois Shaw in art history, has been priceless," Robert says.
For Robert, one of the biggest takeaways from this research is that "no matter what historians are doing, people are thinking about the past, and they're thinking about it for themselves. They're coming up with their own theories. They're deciding for themselves what events in the past mean." He recounts a night out recently in Puerto Rico's Old San Juan, where he overheard a group of about 40 people in the street singing the plena-style song called "Temporal."
"That song was written in response to this 1928 storm, and people are singing it, still," he says. "There are paintings, there are engravings, there are novels, there's different art that was created in response. There were always people like Mr. Hazard, who cared about the history of the places that they came from and lived in, and they wanted to understand how that history was affecting their present and affecting their communities. It's really important for researchers like me, who are looking at history from an academic sense, that we listen to the local people that have been out there doing this work."
Robert's work has been supported by the Center for Latin American and Latinx Studies at Penn, the Center for the Study of  Ethnicity, Race, and Immigration (CSERI) and its Turner Schulman Graduate Research Fellowship, the Clarke Chambers Travel Fellowship from the University of Minnesota Andersen Library, and the Department of History at Penn through the Lees Graduate Research Fellowship. 
CSERI is accepting applications until March 1 for its Turner Schulman Graduate Research Fellowships.