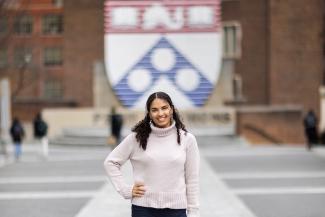 Kristin de Groot, Penn Today
photograph by Eric Sucar

Anya Miller, a fourth-year from Lancaster, Pennsylvania, arrived at Penn undecided on what major to pursue, but knew whatever she was going to do it had to make a difference in the world and had to work toward tackling injustice. "After taking a few sociology classes, I knew majoring in it would be the best path for me to reach those goals," she says. Last summer, Miller developed an interest in thrifting when she lived in Buenos Aires and interned for a sustainable fashion NGO called Hecho Por Nosotros in Penn Abroad's Global Research and Internship Program.
"My official title was sustainability and social impact intern, and my main task was doing consumer research on the sustainable fashion industry in Latin America," she says.
For her undergraduate research project, Miller decided to take her newfound hobby of thrift store shopping and look at it through a socioeconomic lens in Philadelphia. "I'd noticed a trend around thrifting, especially on places like TikTok and Instagram where you see wealthier individuals thrifting, and I wanted to study the social implications of that to make sure that thrifting is still serving the lower-income population that it was designed to serve," she says.
The result is her project "The Thriftification of Philadelphia: How Socioeconomic Status Impacts & Informs the Second-Hand Shopping Experience in Philadelphia." For the research, she talked to shoppers about their motivations and economic background and interviewed staff and thrift store owners around the city to see if they have noticed a change in demographics over time and what niche their store appeals to. She also messaged members of Facebook groups focused on sustainability and thrifting to interview those members on their reasons for thrifting.
One takeaway from the research is that thrifting in Philadelphia has become a gentrified space. "A lot of shoppers have noted that there have been increases in prices and that there's an increase in whiter, wealthier shoppers in stores; this is also echoed by the store owners, who told me they've noticed the demographics have become less people of color and more white shoppers entering these stores," she says.
The second takeaway is shoppers have different motives for thrifting along the lines of socioeconomic status. "This wealthier class of thrifters said they were motivated because it's sustainable, good for the environment, or it is a way to evade capitalism and still consume things," she says.
Miller says it's important to look at topics like this as social stratification has become more exacerbated with COVID-19 and the present economic climate. "I wanted to look at ways to create policy change or reform even within thrift stores to try to level that out. That's my overarching purpose in creating this project," she says.
She also noticed when she tried to look at the past literature on thrifting to help inform her project that it was relatively limited, so she sees this research as filling a gap.
"For a lot of wealthier shoppers, going into thrift stores is a virtue signal that they're doing something good for the world and they're not thinking about the implications that it has on other people." She used the example of wealthier people buying necessities like shoes and coats at thrift stores—typically high-priced items when new—which are the types of items lower-income shoppers need to buy second hand. "If you can afford to buy those items new, maybe you should. Being mindful of how you consume is super important."
Miller's research was funded by a Turner Schulman undergraduate research fellowship, awarded by the Center for the Study of Ethnicity, Race, and Immigration.