Holding Fast: Resilience and Civic Engagement Among Latino Immigrants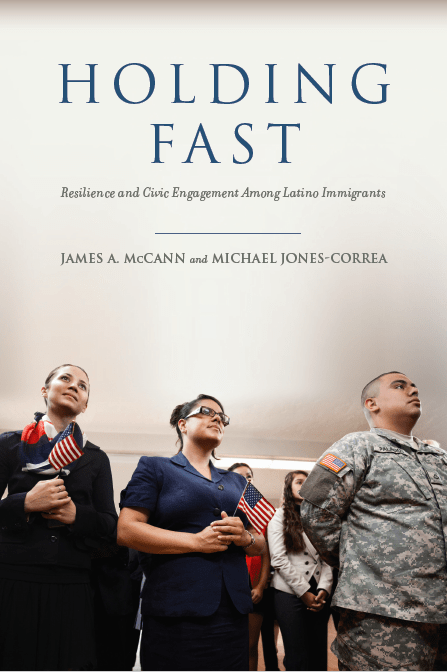 2020
The fight over immigration reform and immigrants' rights in the U.S. has been marked by sharp swings in both public sentiment and official enforcement. In 2006, millions of Latino immigrants joined protests for immigration reform. Deferred Action for Childhood Arrivals, a policy granting work permits and protection from deportation to undocumented immigrants who entered the country before age 16, was enacted in 2012, despite a sharp increase in deportations during the Bush and Obama administrations. The 2016 election of Donald J. Trump prompted a surge in anti-immigrant sentiment which threatened DACA and other progressive immigration policies. In Holding Fast, political scientists James McCann and Michael Jones-Correa investigate whether and how these recent shifts have affected political attitudes and civic participation among Latino immigrants.
Holding Fast draws largely from a yearlong survey of Latino immigrants, including both citizens and noncitizens, conducted before and after the 2016 election. The survey gauges immigrants' attitudes about the direction of the country and the emotional underpinnings of their political involvement. While survey respondents expressed pessimism about the direction of the United States following the 2016 election, there was no evidence of their withdrawal from civic life. Instead, immigrants demonstrated remarkable resilience in their political engagement, and their ties to America remained robust.
McCann and Jones-Correa examine Latino immigrants' trust in government as well as their economic concerns and fears surrounding possible deportations of family members and friends. They find that Latino immigrants who were concerned about the likelihood of deportation were more likely to express a lack of trust in government. Concerns about personal finances were less salient. Disenchantment with the U.S. government did not differ based on citizenship status, length of stay in America, or residence in immigrant-friendly states. Foreign-born Latinos who are naturalized citizens shared similar sentiments to those with fewer political rights, and immigrants in California, for example, express views similar to those in Texas.
Addressing the potential influence immigrant voters may wield in in the coming election, the authors point to signs that the turnout rate for naturalized Latino immigrant may be higher than that for Latinos born in the United States. The authors further underscore the importance of the parties' platforms and policies, noting the still-tenuous nature of Latino immigrants' affiliations with the Democratic Party.
Holding Fast outlines the complex political situation in which Latino immigrants find themselves today. Despite well-founded feelings of anger, fear, and skepticism, in general they maintain an abiding faith in the promise of American democracy. This book provides a comprehensive account of Latino immigrants' political opinions and a nuanced, thoughtful outlook on the future of Latino civic participation. It will be an important contribution to scholarly work on civic engagement and immigrant integration.